Posted by Al
Fri, 14th Nov 2014

Hey everyone,
This week's been a busy one! As well as inching dangerously close to a beta of Flame Over, we also attended Steel Media's super-duper 'Big Indie Pitch' event at London's ExCel yesterday.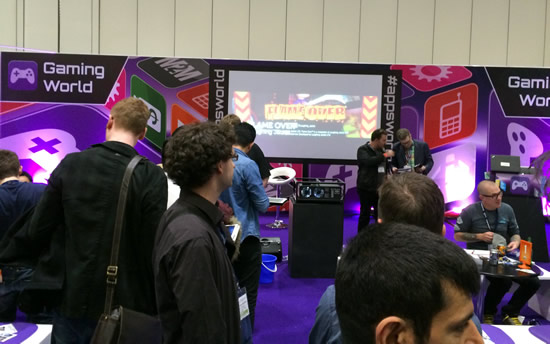 Above: Once we arrived at the Big Indie Pitch it was cool to see Flame Over up on the big screen.
Big Indie Pitch is a speed-dating style pitching event, connecting indie devs and games journalists via a series of very short pitches. Each dev takes turns to demo their game to 4 tables of journos, with each pitch lasting just 3 minutes with 1 minute for questions afterwards. When time's up it's off to the next table to start over again – you're all done in just 16 minutes!
We got to the event bang on time, then waited for our pitching slot to come up; unfortunately we were in the last group, but at least we'd be freshest in the judges' minds when our time did come. While we waited we got to mingle with other devs and some of the journos in attendance who weren't judging the event. We also did our level best to eat as many free nachos as possible! :)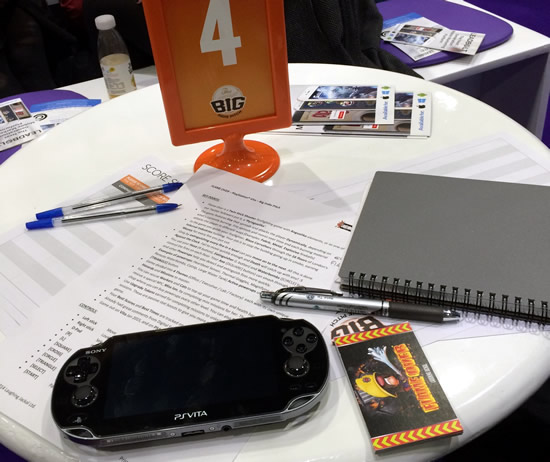 Above: All set up, ready to pitch!
When our turn came we rushed from table to table getting as many Flame Over factoids across as possible and giving the judges as much hands on time with the game as we could. Given that even an easy Flame Over level is gonna take at LEAST 3-4 minutes to complete, it was a tough gig, but we felt that our pitches went pretty well.
Once everyone was finished we had a nervous wait while the judges painstakingly compared notes and collated the scores for each game. Imagine our surprise when 3rd place was announced and Flame Over was called out over the mic! We'd expected what was primarily a phone/tablet focused event to favour some of the other contestants (ours was the only Vita game on show) but the quality of Flame Over thankfully shone through in the short time we had.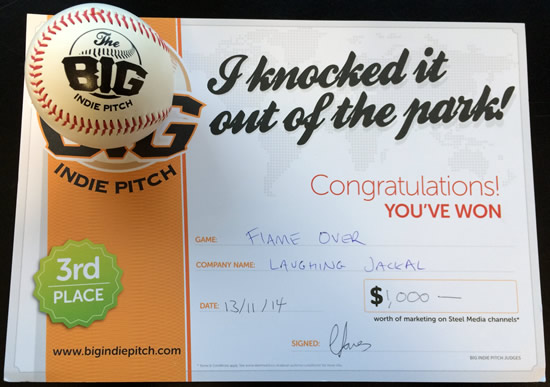 Above: Our baseball and certificate as 3rd place winners! Yay for Flame Over!!
The other worthy winners were 'Polyganic' from Fluff Stuff Studios in 1st place and 'Planet Quest' by outofthebit coming in 2nd – huge congrats to both of them!)
You can see more about Big Indie Pitch, Flame Over and the other winners in Pocketgamer's coverage of the event, right here: http://www.pocketgamer.co.uk/r/iPhone/Big+Indie+Pitch/news.asp?c=62550
All in all we had a great time at the Big Indie Pitch and would love to attend again in the future. We were thrilled to win 3rd place with Flame Over, so a huge thanks to all of the judges – you might consider giving each of them a follow on Twitter. Here's where you can find them:
Mark Brown, Pocket Gamer: @britishgaming
Harry Slater, Pocket Gamer: @harryslater
Bob Heubel, Immersion: @BobHeubel
Danny Russell, 148 Apps: @caffeinedreamer
Phillippa Warr, Wired and Guardian: @philippawarr
Will Freeman, Observer: @spadgy_OTA
Alysia Judge, ITProPortal: @AlysiaJudge
Vaughn Highfield, Freelance: @Starfox118
That's it for this time. See you again here on the Blog soon.
Bye!
Al