Posted by Al
Fri, 20th Mar 2015

Hi everyone,
Well it's been a really exciting week at Laughing Jackal! Last Wednesday Flame Over was finally released on Vita and it's had a fantastic week, rubbing shoulders on the Top Sellers chart on the PSN Store with the likes of FIFA, Minecraft and Hotline Miami 2. Given the hectic release schedule last week that's a great achievement so thanks to everyone who bought a copy.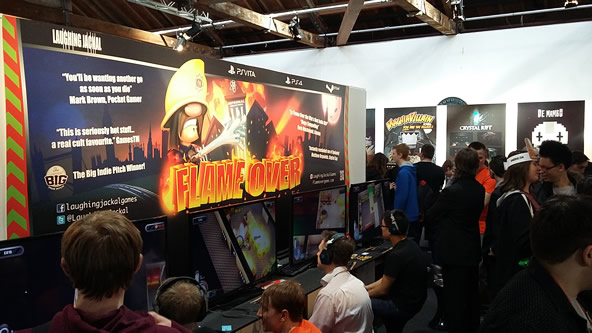 Above: Our stand art was amazing and helped Flame Over attract a crowd. The huge fires helped!
The day after release, the Flame Over team attended the amazing EGX Rezzed event at London's Tobacco Dock, some pictures of which are featured in this post. We had an awesome time meeting up with existing LJ fans, newly converted Flame Over fans and some old friends in the 'trade' and the media, all of whom really loved the game, which was an amazing feeling.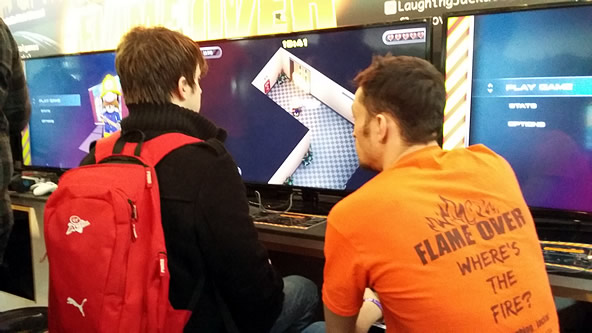 Above: A crack team of experts was on hand to help people brave the deadly fires of Flame Over.
Our stand ended up looking amazing and we had some huge HD TVs to show the forthcoming PS4/Steam versions of the game, with many people coming back again and again to try and beat their previous best performances. Thanks to everyone who played, or came to say hi, you made it a really fantastic event for the whole team. :)
Not only was Flame Over winning new fans at the Rezzed event, but we've had some amazing reviews online too. Here are a few examples of the love being shown to Flame Over amongst the gaming press online:
"Flame Over isn't just one of my favorite PS Vita games of the year but one of my favorite games full stop. I seriously cannot stop playing it." - 10/10
PS Nation
"...packs a ferocious difficulty level and a protagonist that makes Fireman Sam look like a weakling... Not only is it one of the best games of 2015 (so far), it's one of the best games on Playstation Vita. Period."
Critical Indie Gamer
"...one of the Playstation Vita's absolute must-buys. Featuring tight controls, whimsical audio-visuals that belie a ruthless-but-fair set of game systems and a minute cost of entry, there remains little to say but get it while it's hot." - 9/10
Coffee Break Gaming
"Flame Over seems too hot to handle at first, but it's worth every hour you invest into it" - 8/10
Pocket Gamer
Now that we're back in good old LJ Towers, all this week we've been moving ahead with the PS4 and Steam versions of Flame Over, which will be submitted in a few weeks now. Even more excitingly for Vita owners is the news that we've taken some time to respond to user feedback and make additions to the game. The first patch to improve feedback on damage and fire detection will be available in the next 3-4 weeks we hope. A second patch bringing the game into line with the PS4/Steam versions will be released when the Vita version's bigger brothers go live, so no one needs to feel left behind in the blaze. :)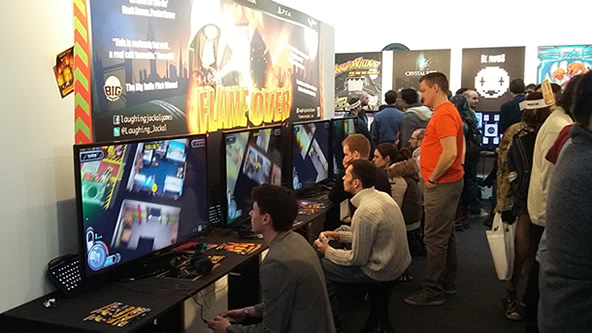 Above: Tobacco Dock was a great venue and we can't wait to go back, maybe with a new game!
That's about it for this week. Thanks again to everyone who's bought, reviewed, shared, played, or talked about Flame Over, whoever you are. You have helped us more than you know and made us a very happy team, ready to work towards the next challenge: PS4 and Steam builds of Flame Over and other exciting future projects. :D
So yeah, thanks! You guys rock. xoxo ^^