Posted by Ross
Fri, 27th Jun 2014

Hello all,
Apologies for the missed Blog post last week, but things have been "heating up" in Flame Over's development.
Since last we spoke quite a lot has happened, including:
Finished coding of our mini missions for each theme (excluding any bug fixes, naturally!)
Added all remaining Hazard rooms to the Executive theme for testing.
Created our remaining hazard items, including gas bottles, movement-triggered explosives, giant crushers and other evil devices!
Reworked soaking visuals to provide better looking soaks for extinguisher and hose.
With all that going on its been a great couple of weeks in the game's life cycle. Now those things are done, we can move onto the juicier stuff, in particular getting the game's remaining features in, adding some more menus and UI into the game and – most exciting of all!! – animating Blaze, the game's hero.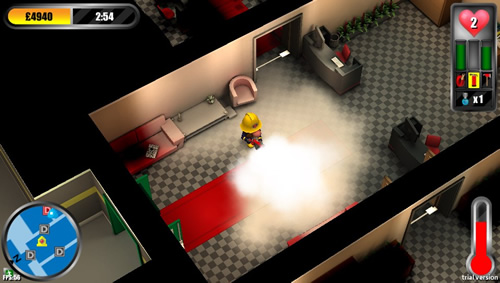 Above: An example of an environment that's been covered in extinguisher foam
For a long time now we've been working on the key features of the game and poor old Blaze has had to wait an age before he can truly feel alive. Our trusty fireman has an awful lot of actions to create, most of which function correctly right now, but are yet to be represented visually in-game. So, in the very near future we'll be adding proper hose and extinguisher firing animations, wielding the fire axe to smash down fire doors, dying (various causes!), getting injured, taking heat damage from fires, and TONS of other stuff!
The process of making Blaze look as good as the rest of the game has finally begun, and I can't wait to share all those developments with you over the coming weeks. Hopefully this means we can begin sharing video footage with you soon! :D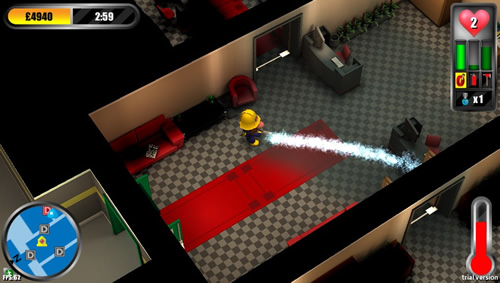 Above: Water from the hose clears away the foam and soaks the environment
So, for now, I hope you like our foam and water soaking visuals and I'll talk to you again next week – promise! ;)
Cheers until then,
Al